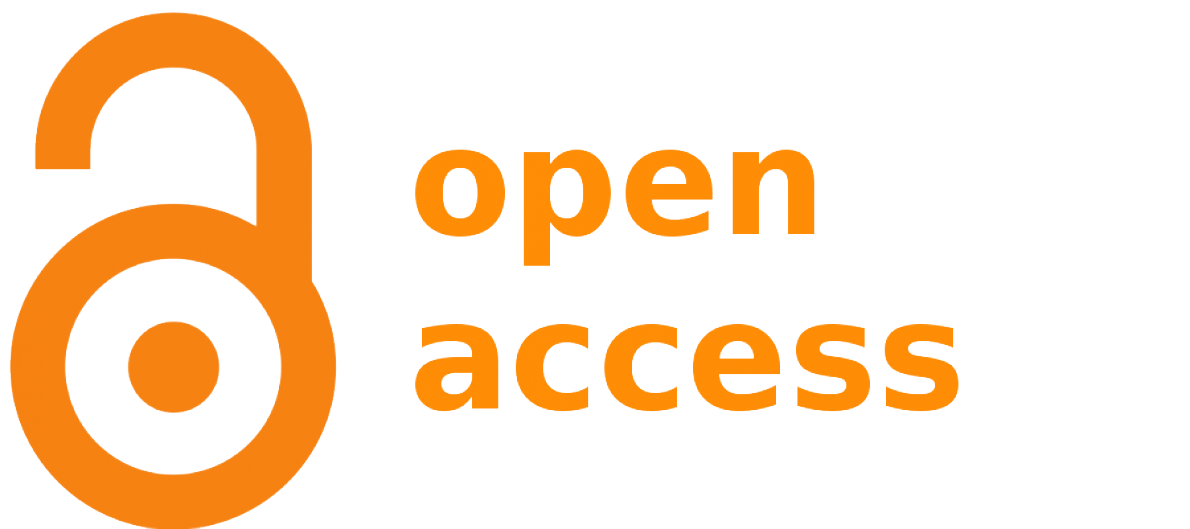 ISSN:1412-9515 (print version), 2579-986X (electronic version).
Editor-in-Chief: Zainal Pikri, UIN Antasari Banjarmasin
Editorial Board
Alhadharah: Jurnal Ilmu Dakwah promotes normative and empirical inquiry into dakwah and communication. The journal publishes articles in communication and broadcasting Islam, dakwah and media, Islamic counseling, dakwah management, and philosophy of dakwah, as well as articles that approach the role of dakwah in media and society from a historical, psychological, sociological, or anthropological standpoint.
It is an open access and peer-reviewed journal, first published in 2002, by the Faculty of Dakwah and Communication Science UIN Antasari Banjarmasin in cooperation with Asosiasi Profesi Dakwah Indonesia (APDI). Frequency: 2 issues/year (June and December).
All papers should be submitted to the journal via online system.  If you haven't submitted a paper to this journal before, you will need to create an account here to register. If failed, please contact us at: [email protected].
Alhadharah: Jurnal Ilmu Dakwah mempromosikan kajian normatif dan empiris terhadap dakwah dan komunikasi. Jurnal ini menerbitkan artikel dalam bidang komunikasi dan penyiaran Islam, dakwah dan media, bimbingan dan penyuluhan Islam, manajemen dakwah, dan filsafat dakwah, serta artikel yang mendekati peran dakwah di media dan masyarakat dari sudut pandang sejarah, psikologi, sosiologi, atau antropologi.
Jurnal ini akses terbuka dan diproses dengan peer-review, pertama kali diterbitkan pada 2002, oleh Fakultas Dakwah dan Ilmu Komunikasi UIN Antasari Banjarmasin bekerjasama dengan Asosiasi Profesi Dakwah Indonesia (APDI). Frekuensi: 2 kali / tahun (Juni dan Desember)
Semua naskah diserahkan melalui sistem daring. Jika Anda belum punya akun, silahkan daftar di sini. Jika gagal, silahkan hubungi kami di: [email protected].
Alhadharah: Jurnal Ilmu Dakwah is accreditated SINTA 4 (SK: 23/E/KPT/2019) valid for 5 years (from Vol 16 (32/2) 2017 - Vol 21 (1) 2022)  by the Ministry of Research, Technology, and Higher Education of the Republic of Indonesia.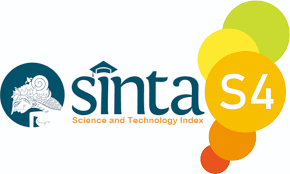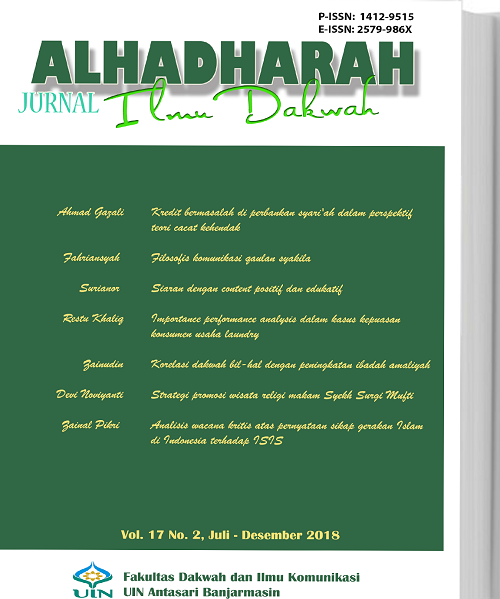 Announcements
No announcements have been published.
Vol 21, No 1 (2022)
Table of Contents
Articles
Muhammad Abrar Azizi, Mulyadi Mulyadi, Amiruddin Amiruddin, Putri Andriani, Athoillah Islamy

Abstract views : 483

1-14
Nenie Sofiyawati

Abstract views : 609

15-29
Haryadi Mujianto, Zikri Fachrul Nurhadi

Abstract views : 286

31-47
Muhammad Nurhuda, Nurullina Wahidatus Salam

Abstract views : 217

49-60
Bayani Dahlan, Rabiatul Aslamiyah

Abstract views : 353

61-74
Syarial Dedi

Abstract views : 317

75-89
Fathiyah Khasanah Arrahmah, Angger Bimantara, Imam Alif Hidayat, Evi Merdika Listiani, Moh Ali Aziz, Sokhi Huda

Abstract views : 542

91-106