At-Taradhi: Jurnal Studi Ekonomi is published by State Islamic University (UIN) Antasari Banjarmasin. The journal focus on providing quality research in the areas of Islamic economics, banking and finance. The goal of the journal is to cover topics that are paramount in modern Islamic economics and finance. Accordingly, papers that focus on emerging and interdisciplinary topics are encouraged. In addition, the goal of the journal is to provide research that is relevant and applicable to a diverse set of Islamic finance researchers and professionals.The Journal is published twice a year on June and December. The aim of the journal is to disseminate the Islamic economics, banking, and finance researches done by researchers.
Specifically, the journal will deal with topics, including but not limited to:
Islamic economics
Islamic banking
Islamic finance
Islamic accounting
Islamic microfinance
Zakah, waqf, and philantrophy
At-Taradhi: Jurnal Studi Ekonomi is accreditated SINTA 4 (SK: 23/E/KPT/2019) by the Ministry of Research, Technology, and Higher Education of the Republic of Indonesia.
At-Taradhi: Jurnal Studi Ekonomi is also indexed by Directory of Open Access Journal (DOAJ), CrossRef, Googgle Scholar, Portal Garuda, Moraref, ESJI, BASE, Journal Factor, etc.
Citations in Google Scholar: 57
h-index in Google Scholar: 4
i-10 index in Google Scholar: 1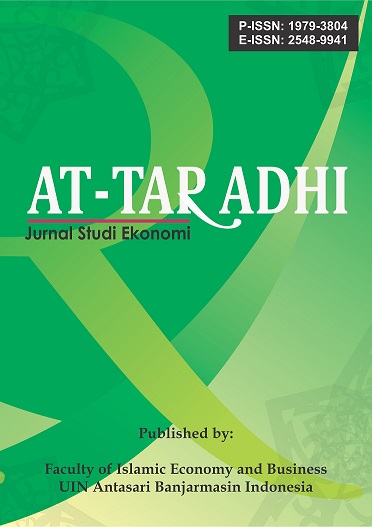 Vol 13, No 1 (2022)
Table of Contents
Articles
Muhammad Sauqi, M. Fahmi al-Amruzi

Abstract views : 96

01-18
Mahmud Yusuf

Abstract views : 28

19-30
Nuzly Camelia Siregar, Rosyid Nur Anggara Putra, Nur Arifah

Abstract views : 48

31-42
Chetrine Alya Rinaima

Abstract views : 102

43-56
Riski Wulandari, Mohammad Rofiuddin

Abstract views : 46

57-74