LET is an open access peer reviewed research journal published by English Department of Antasari State Islamic University. LET provides a platform that welcomes and acknowledges high quality empirical original research papers about linguistics, literature, and English teaching written by researchers, academicians, professional, and practitioners from all over the world. LET Journal is published twice a year in the month of June and December, formed in printed version (ISSN : 2086-9606) and online version (EISSN  : 2549-2454).
Accredited Journal (4th degree) by the Ministry of Research, Technology, and Higher Education of the Republic of Indonesia (2019-2023) Decree No. 30/E/KPT/2019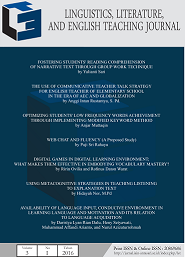 Announcements
No announcements have been published.
Vol 13, No 1 (2023)
Table of Contents
Articles
Yayu Anggraini H. Katili

Abstract views : 210

1-28
Farisani Thomas Nephawe

Abstract views : 182

29-49
Yuni Awalaturrohmah Solihah, Viar Dwi Kartika, Fiki Setiawan

Abstract views : 181

50-67
Ni Nyoman Sarmi, Kheista Sasi Kirana, Kusuma Wijaya, Rommel Utungga Pasopati

Abstract views : 94

68-84
Rahmi Fadilah, Honesty Yonanda Ayudhia, Vischa Mansyera Pratama, Violintikha Harmawan

Abstract views : 183

85-104
Giyatmi Giyatmi, Sihindun Arumi, Ratih Wijayava

Abstract views : 126

105-127
Gabriel Fredi Daar, Fransiskus Jemadi

Abstract views : 128

128-143
Ruri Supatmi, Malyn Malazarte

Abstract views : 95

144-163